Vetrina Демонстрации Showcase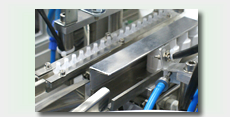 Capper machine
Semiautomatic model, suitable for closing screw or pressure plastic capsules and metal screw or twist-off capsules.

Arti capper mounted on a frame for table with closing group, anti-rotation pincers for round containers or centers for other shape containers.

Pneumatic working.

Different ways of construction as per following details:

- extra switch for screw and pressure working;

- optional blowing system of steam or azote for twist-off capsules, manually placed inside magnetic punch.

Variable production for Mod. Arti 1/VA: 400 pcs/hr.

Variable dimensions and weight for Arti: cm. 45x42x80 -Kg. 20.

Variable dimensions and weight for other models according to construction.