Vetrina Демонстрации Showcase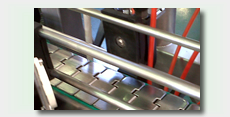 Sleeve
Thanks to the modulate structure, our sleever mod.
FAST can be configured for every kind of use.
Sleever mod. FAST conceived and constructed by F.C.L. Engineering is the flexible solution for a lot of covering types like full sleeve, partial sleeve and guarantee seal.
Round, oval and square bins can be processed with 200pz per minute max speed, in function of the sleever height to apply.
Sleever mod. FAST can process several kind of materials like PVC, PET, OPS or PLA, with thickness from 40 to 70 micron, to every kind of shape bins, empty or full, made of plastic, glass or metal.
The structure allowed to do rapid format changeover.
Heat-shrink process, for closed bins, is made by a steam tunnel.
An hot air tunnel, instead, can be used for open or closed bins.