Vetrina Демонстрации Showcase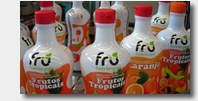 Volumetric Dosing
Volumetric and semiautomatic model, suitable for thick, creamy and no-foamy liquid products.

Frame for table or on wheels with one or two dosing pumps of adjustable volumes as per following details:from 5 to 80 cc. - 5 to 200 cc. - 10 to 300 cc. 20 to 500 cc. - 50 to 1000 cc. - 1000 to 5000 cc.

Possibility of mounting a counter for doses beyond 5000 c. till max. 10 liters.

Alternative doses with pedal as well as continuous doses with automatic device.

Stainless steel frame and parts in contact with the product, teflon seals.

Use of other materials for incompatible products with stainless steel.

Pneumatic working.

Product feeding in two ways:

- With 30-50 lt. hopper with simple jacket for cold or warm products or double jacker for heat keeping.

Optional solution with mixer or level control with sensors or float.

- With connector for direct suction of product from storage tank.

Variable output from 300 to 1500 pcs/hr according to product and container characteristics.