Vetrina Демонстрации Showcase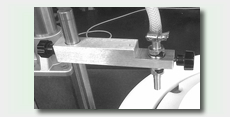 Stretch Sleeve Labeling System
The stretch sleeve label is made of a tube of linear low density polyethylene film with elastic properties.

The tube is obtained off-line by folding and seaming then flattened and pre-perforated at a constant pitch to allow the stretch sleeve label tear-off.

Thanks to the elastic properties of the film, the sleeve label does not require any glue application or heat shrink process to fit perfectly to the bottle's shape.

Our machines feature an innovative concept which merges a very simple functioning with an advanced design and manufacturing technologies.

This gives several advantages:

Easy Handling of the sleeve, directly from the reel to the bottle without any intermediate passages, allowing high precision and repeatability of sleeve application.

The machine can apply labels on PET,PE,PVC or glass containers, either wet or dry.

Our machines can operate a wide range of sizes and forms and the operations for format changeover are extremely simple and quick. Only a few mechanical parts need to be replaced and the changeover can be completed in 20 minutes.

Entirely mechanical functioning stands for an easy and intuitive maintenance.

The machines are very compact and can easily be installed on existing lines.